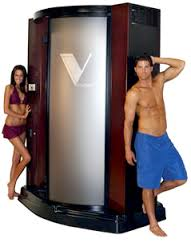 Look instantly great for your upcoming event, party, night out, vacation, class pictures, photo shoot or whatever reason you want to look your best.
In less than a minute, the fully automated VersaSpa Spray Tan Booth gives you that Sun Kissed look! VersaSpa products uniquely combine the science of skin care with advanced tanning technology to rejuvenate skin cells and amplify the quality of the tan. VersaSpa has a unique blend of Eco-Certified DHA and Erythrulose for a long lasting, beautiful tan.
VersaSpa has transformed sunless tanning by introducing a blend of marine algae to moisturize, oxygenate and detoxify skin.  Start with the Perfector, formulated with Grape Seed Extract, to help stimulate collagen and improve skin's appearance by balancing skin's ph for an even, deep tan. Finish with the Moisturizing treatment, formulated with green tea extract to help reduce free-radical damage and Ginger Root extract to help increase circulation, for immediate hydration which helps deepen and extend color development.
Try the VersaSpa Difference for a Premium Spray Tanning Experience!
VersaSpa Spray Tan Booth Packages
$24.99 for 1 session
$63.00 for 3 sessions
$99.99 for 5 sessions
Save
Save